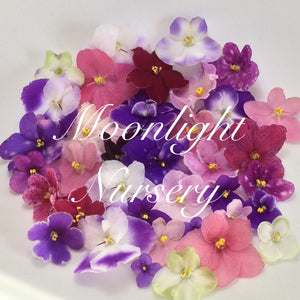 Mystery Box!
I am offering a Mystery Box!  These will contain an assortment of semi/mini size crowns - all named and labeled! No requests on contents! Each box will contain 15 different varieties  and qualities for free shipping!
Important shipping information - Your night time temperatures must be above 45F to have this item shipped!
What is a crown cutting?  It is the growing point of a violet plus several leaves.  No roots or potting mix are attached.  The crown will need to be planted and rooted upon receipt.  Doming of the crown until roots form is generally recommended.  Most crowns will have enough leaves that you could set a few leaves along with rooting the crown.  Crowns will be freshly cut before shipping and packed in ziptop bags as fresh cut leaves are.